Do not Believe These 5 Myths About Real Estate Agents
April 7,2020
1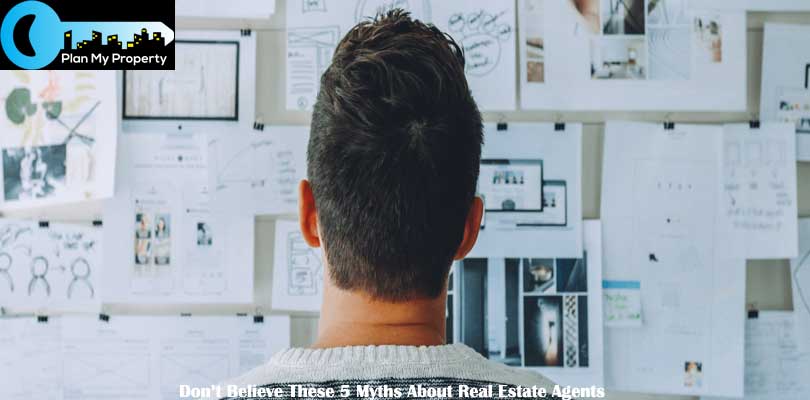 Sellers and buyers of real estate in India enter the market with many misconceptions and myths about real estate agents and brokers, how the process works, how they work, what is agency relationship all about etc. In the entire process of real estate selling and buying there are two agents, one for seller and one for buyer. When it comes to buy or sell India Property in real estate market many people easily believe in myths rather than the facts. This makes the process complicated and confusing whether to buy or sell the property or not. Below are some of the common myths about real estate agents and the truth that can help you make the right decision.

Agent Gets Fixed Commission, No Matter What
Myth – Many people believe that agents are pocketing entire commission which is good, but this is not precise.

Truth – You need to know that sellers only pay the commission to realty agents and the commission is divided in four ways between two brokerages and two agents. Moreover, the brokerage commissions are not fixed and hence sellers can negotiate for it.

Working with Real Estate Agents Mean You get Stuck with Them Forever
Myth – Many believe that once they sign any agreement with real estate agent or brokerage then get stuck for a period of 6 months to 1 year. But this is not the case in reality.

Truth – If you see things are not going the right way you intended, you are authorized to ask the real estate agent to release you from the agreement prior to agreement termination. Buyers are not under any contract and hence they are free from such agreement and they can seek assistance of any number agents until they find their right home. But sellers need to sign contract with agents for a period of 6-12 months. But if things are not working in favour of sellers, then they are authorized to ask agents to release them from the agreement prior to contract termination. So, sellers are not stuck if they sign any contract with the real estate agent.

It is Fine for Homebuyers to Use Home's Selling Agents
Myth – Buyers today get most of the things on demand, ranging from food to free ride to airport and more. So, they assume that only a Smartphone is required to purchase a home as most of the listings live online.

Truth – If you are a first time homebuyer, you might not know that the listing agents often represent the best interest of the sellers and has fiduciary liability to negotiate the best terms and price for sellers. So, working with the selling agents may lead to conflict of interests. Professional buyer's agent breathes in local market and they are well versed about all local homes. They are linked to the community and know best inspectors, architects, lenders and lawyers.

All Real Estate Agents are Same
Myth – Many people believe that all agents are the same.

Truth – A local real estate agent can make implausible differences and hence you must never settle with one. With the right real estate agent you can save time and money and keep all troubles out and stay protected. You must ensure choosing the real estate agent that has worked in the tow where you are intending to buy your next home. Always compare the services of real estate agents before selecting one and make sure you check testimonials of their previous clients to have an idea about their working process.

You Can Save Money by not Hiring Real Estate Agent
Myth – Many people in sake of saving money prefer selling or buying 2BHK Flats by their own. But in reality this is not true as you may end up making wrong deals or spend more money in realty deals if you don't have experience real estate agent beside you.

Truth – The services of real estate agents are always worthwhile whether it is to sell or buy a property in India. The agent ensures that the house is properly priced when you put the property for sale. Or when it comes to buy a property the real estate agent ensure that you are getting the best deal possible. So, having real estate agent beside you is always important during any real estate deal.

Conclusion!
Whether you want to buy or sell 2 or 3BHK Flats in India, real estate agent always plays a crucial role. Consider these above mentioned myths and truths to make wise decision.